ASME B16.9 Buttweld 180 Degree Elbow Supplier, 180 Degree Short
ASME B16.9 Buttweld 180 Degree Elbow Supplier, 180 Degree Short: We are one of the most important manufacturers, Suppliers, and Exporters of Buttweld 180° Pipe Elbows, which also are referred to as 'return elbows', functioning to vary the direction of the flow through a 180° angle.
These Buttweld 180 Degree Elbows also are available in customized sizes that give more elasticity and simple handling within the process and control systems. Efficient to work under a variety of maximum and fluctuating temperatures.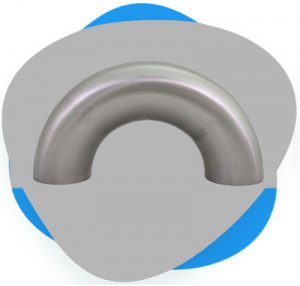 These 180 Degree elbow fittings are utilized in areas having more spaces for pipes than 180 degrees, they turn the entire angle of orientation of the pipes joined together by 180 degrees. The capacity of a Buttweld 180° Elbow is to vary course or move through Buttweld 180 Degree Elbow and there are two essential sorts, short sweep, and long-range.
Buttweld 180 Degree Elbow or also called a return bend allows complete reversal of flow. the space between the highest of the elbow and centerline is 3 x NPS.
These Elbows are treated with Shot blasting and rust-proof black oil to spice up their finishing and resistance against surface abrasion. Prices for 180 Degree Pipe Elbow Buttweld Fittings are very reasonable. We've earned an unmistakable name within the design of 180° Elbow fittings.